Ryan Kruesi: bike builder, stunt rider and model
If custom bike builder and professional stunt rider, Ryan Kruesi, looks familiar, you may recognize him from Continental's video series. Ryan was featured riding Continental's custom Harley Davidson in the ContiTour video and a BMW S1000XR in the ContiRoadAttack 3 video.
Ryan is the owner of Kruesi Originals in Phoenix, AZ and a leader in the "club style" Dyna movement. Ryan and his crew offer a full range of Harley Davidson performance modifications, regular maintenance and even manufacture their own line of custom HD parts. Ryan says he got into the "club style" Dyna scene about 8 years ago but he doesn't limit his work to just Harley-Davidson Dyna models. "We work on Softail, Dyna, Touring and Sportster models – anything we can get more performance out of."Ryan sees the future of motorcycling in the performance Harley segment and says he's "glad to see something come along to combat the 'Big Wheel Bagger, mid-life crisis style.' He adds, "how a motorcycle performs is the new direction."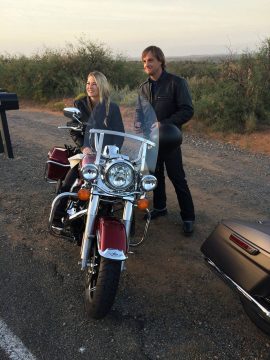 Ryan started stunt riding about 5 years ago because he wanted to learn how to wheelie. And while most HD stunt riders get their start on a sport bike, Ryan's first stunts and wheelies were on a Harley. Since then he's a regular on the Arizona HD stunt scene. Modeling was not a career he pursued but rather fell into. He's even got an upcoming interview for a TV show!
Motorcycles weren't always a way of life for Ryan. "I was big into the import drag racing scene and even built a few drift cars before returning to motorcycles. I spent my late teens and early twenties building drift cars and import drag racers. I rode a Honda ATC at 5 years old, but my first motorcycle was a Honda XR75. From there I moved onto bigger dirt bikes and eventually sport bikes. I got into Harley's with a 2006 HD Night Train to 'slow down'."
So what did this professional stunt rider have to say about Continental's cruiser tire, the ContiTour? "It handles great, no wobbles and lots of grip. It's easy to mount and is a great wheelie tire because of the traction – too much grip for burn-outs!"
Keep up with Ryan and his Kruesi Originals crew on Instagram @kruesioriginals or follow them on YouTube.