Journalists Put the ContiRoad to the Test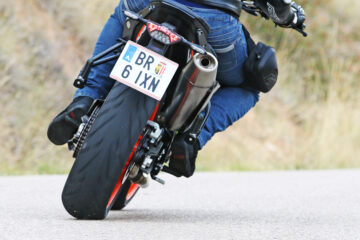 The ContiRoad is the latest tire to join Continental's catalog in the sport-touring segment. It's versatility encompasses decades of engineering developed at the Korbach plant in Germany, making it one of the most technologically advanced tire options for mixed urban, sport and tourism use.
To test the performance of Continental's latest release,  journalists in Spain riding Yamaha and KTM bikes took the ContiRoad's out for a 130-mile spin of the Spanish roadways and byways.
Each of the journalists agreed that versatility is the best word for describing the overall performance of the ContiRoad. In addition to its adaptability and variety of uses, the ContiRoad is  compatible with a range of motorcycle types.  Attendees to the test ride were able to check the behavior of this tire on six motorcycles of different power, size, weight and displacement:  KTM 390 Duke, KTM 790 Duke, KTM 890 Duke, Yamaha MT-03, Yamaha MT-09 and Yamaha Tracer 900 GT.
Road conditions proved little challenge to the ContiRoad either because of its advanced tread pattern with a center "slick" pattern or "backbone" and extra deep tread grooves.  This makes for exceptional water ejection and increases the overall mileage of the tire significantly.  The tread, along with  the new RainGrip compound technology, ensures optimum grip right down to the microscopic level of the road surface and increases tread life.
The ContiRoad also incorporates Continental's ZeroDegree structure with no angles in the composition, which provides greater stability and trust: "Cold weather conditions will not be a problem, even better in wet areas than under the burning heat of 4 pm in August".
Ultimately the ContiRoad was designed from the ground-up to be a high performing sport touring tire at an mid-price point for motorcyclists everywhere.  Its Handling and durability, as well as its high mileage features were developed to satisfy the need for an affordable tire that offers good performance, safety and durability.
Read more about the ContiRoad and check out our Because You Asked: ContiRoad Video now.